Build My Own Computer! Thinking of Building Your Own PC?

If I can build my own computer, you also can build your own PC if you follow the step-by-step tutorials here.
In order to build a PC, first you need to know the computer hardware or components of a PC. You can get the hardware parts easily at your local computer store or online PC stores. Some of the very basic and necessary hardware components needed in order to form a PC are:
CPU
RAM
Motherboard
HDD
DVD-RW drive
Tower Case (Casing)
Monitor
Mouse

To get started, let watch a video on motherboard layouts as well as how to install the PC components.
While I am still squeezing my time to build contents for this topic, I recommend you to read this manual that come with video tutorials on how you can successfully build your own computer.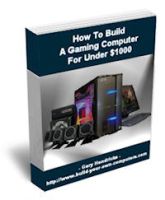 If you are thinking of building a cheap gaming computer, then get a copy of 'How to build a gaming computer for under US1000?'

Can't find what you're looking for? Try Google Search!
Custom Search
Back to Top

You're viewing the build my own computer page, click here to go back to the Home Page