"Download Hetman Uneraser Software Now!"


Hetman Uneraser software is a compact data recovery tool with an intuitive user interface and recovery capabilities. The interface is similar to Windows Explorer that has left and right panes. It also has the file preview feature that will be equally useful for novices and advanced users.
You can use this software to recover files lost after power failures, PC hardware and software problems and human mistakes. One of the most remarkable features that Hetman Uneraser has to offer is the ability to preview files prior to restoring them.
Once you download the Hetman uneraser software, you need to install it. Upon installed, just open the software in normal way. The software scans the desired hard drives and displays a searchable and sortable list of recoverable files that you can preview prior to starting the recovery process.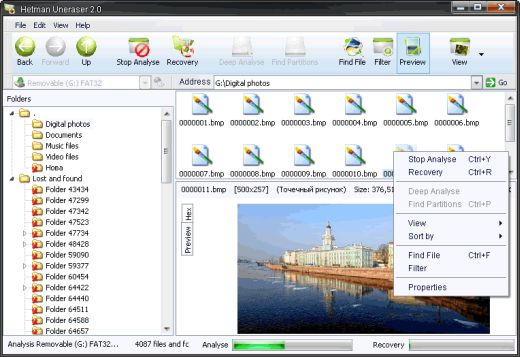 Once you see the preview files, you can almost guarantee that the files are 100% recoverable. But even if the file can't be previewed, there is still a good chance that you will be able to recover the lost data files.
Hetman Uneraser software works with virtually any types of files, all major file systems and works with any types of media connected to the user's system even after hard drive formatted. The following are the summary:
Hetman Uneraser supports:
All Versions of Windows - Windows 95 / 98 / Me / NT / 2000 / XP / 2003 / Vista and 7
All types of file systems - FAT12 / 16 / 32, NTFS / NTFS4 / NTFS5
All types of storage media - IDE / ATA / SATA / SCSI hard drives, USB and FireWire storage devices
All types of memory cards - Smart Media, Compact Flash, Memory Stick, MicroDrive, xD, Flash Card, PC Card, Multimedia Card, SD, SDHC, and microSD
No matter which file system or which version of Windows you use the software will be an equally efficient file recovery tool. The following are lists of files that Hetman Uneraser can recover:
Microsoft Office document files - DOC, RTF, PDF, XLS, PPT, MDB, Visio, HTML, CSV, TXT, PAS, CPP, EML, INI
Video, audio and multimedia files - MP3, MP4, AVI, WAV, WMA, MOV, MPG, ASF, FLA, 3G2, DAT, FLV, IFO, M2TS, MKV, MPG, etc.
Digital Images and RAW photos files - JPEG, JPG, BMP, GIF, TIF, PNG, TGA, EML, CRW, CR2, NEF, RAF, X3F, BAY, ORF, MRW, RAW, SRF
Compressed archive files - RAR, ZIP, ARJ, CAB, 7-ZIP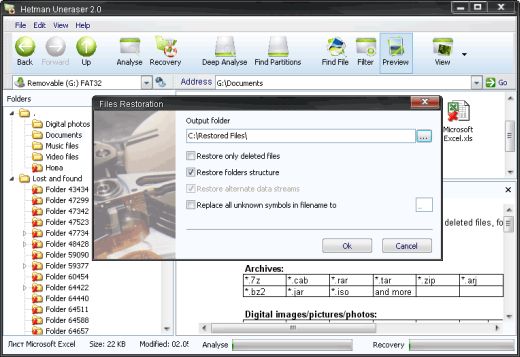 Once software found and you can preview the files, the process of data recovery is very similar to working with the standard Windows Explorer and files can be recovered with a single mouse click.
To conclude, I would say the Hetman Uneraser software will be your 911 file recovery service available around the clock. Simple and always efficient, it will help you recover lost data in situations when time is critical and there is no other help around.
If you are still not convince, you need to listen to what CEO of Hetman Software - Michael Miroshnichenko say:
"We intended to create a tool that would let people see what they are restoring. Many applications on the market restore data, but leave users pretty much unaware what exactly they are getting in the end. We wanted to go the other way and seems like we did a good job with that. Our test groups liked this feature a lot"
So, don't wait! Get a copy of the Hetman Uneraser software now and see for yourself how fast you can find the files that you deleted days ago. Download Hetman Data Recovery Pack.

Can't find what you're looking for? Try Google Search!
Custom Search
Related Computer Training Links:

Back to Top

You're viewing the hetman uneraser software info page, click here to go back to the Home Page
Google Search:
Custom Search
Free Newsletter
Get your free subscription below to download two ebooks and improves your computer skills or click here for details.

---