"How to Remove Viruses and Cleanse Your System?"

Do you really know how to remove viruses from your computer?
You may tell me, use the best antivirus software to scan and clean it. Is that so easy? This article will let you know what to do when you computer are infected by viruses.
Of course you need to have antivirus software installed in your computer and use it to scan the computer hard drives. When the antivirus program finds a virus, it alerts you immediately and asks for a decision. Make a note of the virus's name and have it removed.
Normally, there are two basic outcomes:
1) Automatic removal: Chances are your antivirus program will be able to fix your computer by removing the virus. If you are just using a normal antivirus program and unable to clean the virus, try the manual removal method.
2) Manual removal: If your antivirus software tells you that it cannot get rid of the virus, a little more work is in order.
It could be that infected files are running and so the virus can't be deleted. You can try scanning the computer in Windows Safe Mode. This is a special mode in which Windows starts up in a raw state and without loading most of the devices driver.
To get into safe mode, restart the computer. When the screen is black (and before the Windows logo appears), hit the F8 key several times until a menu appears. Use the up or down arrow key to choose Safe Mode, and press Enter.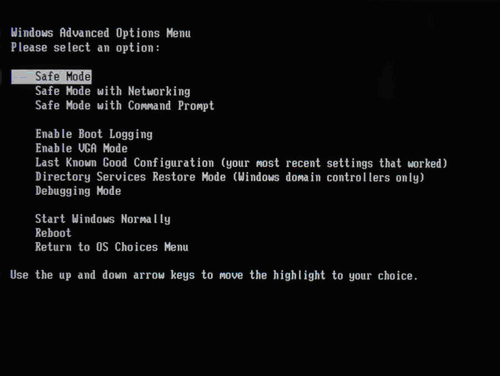 Press Enter again to continue loading the Windows.
When the Windows desktop appears in safe mode, run your antivirus program and scan the system for viruses. In safe mode, you should be able to easily kill the virus.
Your antivirus program might ask if it should quarantine the virus or delete it. If you quarantine the files, they are put in the computer equivalent of jail, an electronically walled-off area where they can't cause any further damage. If you choose to delete the snared virus, it is wiped from your computer.
In some cases, if you are still unable to remove the viruses, you may need to download a special virus removal tool from your antivirus software vendor; such tools are sometimes built for specific, hard to-remove viruses. These tools can be downloaded from the company's websites such as:
If you are still unable to remove the virus using the removal tools, you may need to format the entire hard drive and re-install the Windows. Of course you can backup your data first before formatting the disk. Otherwise, all your important data will lose.

Can't find what you're looking for? Try Google Search!
Custom Search
Related Computer Training Links:

Back to Top

You're viewing the how to remove viruses info page, click here to go back to the Home Page