"Network Interface Card (NIC) - Connecting Your PCs Together"


A network interface card also known as network card or network adapter. That's an expansion card that either plugs into your computer or is part of the motherboard, as is the case with the iMac and G3 or G4 Macintosh.
The driver normally comes with the card and provides the software interface between the system.
The PnP (plug and play) network card will be detected automatically by the Windows system, whereas a Non-PnP network card has to be installed manually. Most of the today main board comes with build-in network controller and you just need to install the driver from the main board manufacturer drivers CD.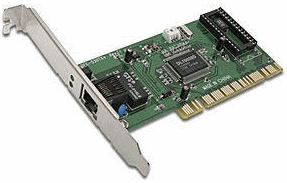 From the above picture, you will notice that the NIC only have one port to connect the network cable. All the network interface card is PCI interface so you just plug the card to your computer PCI slots (any slot) on the motherboard and install the driver.

Why you need NIC?
Simple. To setup a network system as this is another way to make computers talk to each other. A network is actually two or more computers connected using some type of network cable. The computers can share information, access common disk drives, and share printers.
Also, you need this card to connect the computer and router in order to connect to the Internet if you are using the broadband connections.

The Network Cable- Cat 5 or Cat 5e
The following are the physical look of the Cat 5/5e cable (left) as well as the network cable connectors (right). You may see that this cable have different colors but no matter which color, the function are still the same.

Can't find what you're looking for? Try Google Search!
Custom Search
Other Computer Training Links:

Back to Top

You're viewing the Network Interface Card info page, click here to go back to the Home Page