"Sound Cards | The Layout and Usage of the Computer Sound Adapters"

Sound cards allow computers to output audio signals through speakers and/or headphones. It is a PCI card that is fitted inside the computer PCI socket (or onboard) with audio jacks at the back. It has several uses and has become a standard option which comes with computers today.
The standard sound card is rather basic, and if you have a good speaker system you should consider opting for a higher-spec sound adapter/card to create realistic gaming and acoustic effects and detailed surround sound.
With a sound adapter and appropriate software, a PC can perform various tasks, including:
Playing MIDI (music) and audio CD/DVDs
Playing stereo music, sound effects, and/or voice prompts in games, education, training, and presentation software, etc
Playing movie or video CD/DVDs
Supporting audio conferencing and telephony across a LAN or the Internet
Supporting text-to-speech software that allows the PC to "read" text aloud, aiding children who cannot read and people who are visually impaired

Sound Card Layout
Line Out (Speaker) jack - is the location which the speakers or headphones will be connected to get sound out of the sound card
Mic (Microphone) jack - connect a microphone to the computer and record your own sound files
Line in jack - allows tape or CD players or other audio sources to be recorded by computer
MIDI / Game / Joystick port - connect with old type electronic keyboard (organ) or used for joystick / game paddle
Today, several manufacturers whom are beginning to identify each of the above ports by symbols on the back of the card. Below you will find examples of what these symbols mean.

You may also find that these ports are color-coded, which means the ports on the back will be the same color as the wire that you are connecting to them.

Sound Adapter/Card Brand
There are lots of brands available such as Creative, Asus, AOpen, ADS, CSS, HP, etc. The Creative Labs dominate the market. However, most of the motherboard today comes with onboard sound adapter.

Audio cable
You need to have a cable to connect the rear panel of CD/DVD drive to the sound card in order to listen to the audio CD through computer. This cable is called audio cable. It's used when listen to the audio CD only, the rest of the different types of CD/DVD doesn't need it.
With the audio cable, the songs on the CDs it won't go through the Processor or RAM but works directly from the CD /DVD drives to the sound adapter/card.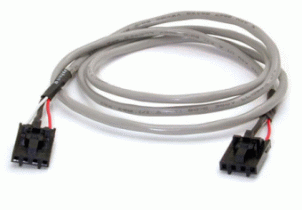 Can't find what you're looking for? Try Google Search!
Custom Search
Other Computer Training Links:

Back to Top

You're viewing the Sound Cards info page, click here to go back to the Home Page