Start Windows 7 Using the Welcome Screen

After installed, do you know where to start Windows 7 or getting started with Windows 7?
Well, Windows 7 automatically starts when you turn on your computer. You may needs to insert the user name and password if you created it during the installation of Windows 7.
Once you logon to the desktop environment, the Windows 7 desktop appears and the Getting Started window (on first use) opens.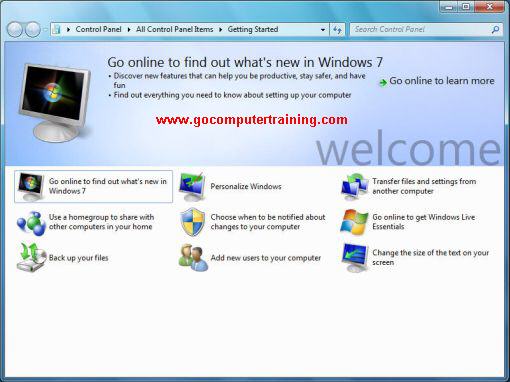 The Welcome screen displays all the user accounts on the computer. Unlike Windows XP, the Welcome screen can't be turned off.
As you can see, the Windows 7 desktop and the Getting Started window displays options to view information about new features in Windows 7, transfer files and setting, add new users, share files with homegroups, personalize Windows, change screen size, and get Windows Live Essentials.
Please note that the Getting Started window will appear at the first time logon to Windows. To open the Getting Started window later, click the Start button, point to All Programs, click Accessories, and then click Getting Started.

Finding Basic Info, Restart and Shut Down Computer
To find basic computer information
From the Start button, then right-click Computer and then click Properties to display computer properties.

You will see some basic information about your computer such as:
- Windows edition
- Computer processor name and speed
- Computer memory (RAM)
- Operating system type
- Computer name
- Workgroup name


To restart or turn off computer
Choose Start and then click the Shut down button to turn off the computer.
Click the right-arrow to the Shut down button and the shortcut menu appeared, choose Restart to restart the computer.

Can't find what you're looking for? Try Google Search!
Custom Search
Back to Top

You're viewing the start Windows 7 info page, click here to go back to the Home Page