Understand the Windows 7 Taskbar Elements And What You Can Do With The Taskbar?

The Windows 7 taskbar located at the bottom of the screen. It contains several items: the Start button, program and taskbar buttons, notification area, and Show desktop button.
The taskbar allows you to start programs, files, and windows, as well as switch among currently running programs or open windows.
Besides pinning programs to the Start menu, you can pin them to the taskbar. The default pinned programs on the taskbar includes Internet Explorer, Windows Explorer, and Windows Media Player.
The following show the Windows 7 taskbar: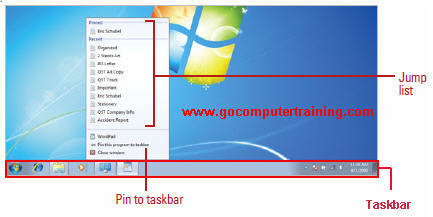 The Start button
Provides a launch point for all commands and applications on your system.
Can use to quickly start a program, find and open files, access the Windows Help and Support Center, shut down computer, etc.

The Program or Taskbar Buttons (earlier versions known as Quick Launch Bar)
Can use to start programs and switch between open windows and programs. Default programs are Internet Explorer, Windows Explorer, and Windows Media Player.
Gives you fast access to frequently used applications (you can customize it).

The Jump Lists
When you right-click an application icon in the taskbar, Windows 7 will display a list of menus known as jump lists.
Jump Lists contain several default options as well as a list of tasks and destinations that you can perform within the selected application.

The Notification Icons (also called the System Tray)
Contains the time, the date, and program related icons.
Click an icon to display a window of options. If icons in the notification area are not used for a while, an arrow appears to hide the icons.
Click the arrow to display hidden icons or click a link to customize the notification area to select which icons and notifications appear on the taskbar.
Drag a hidden icon on or displayed icon off the notification area to add or remove it from the taskbar

Show Desktop Button
Click the button allows you to quickly show the Windows desktop.

What you can do with the taskbar?
To pin program to the taskbar
Right-click an open program button on the taskbar, and then click Pin this program to taskbar.

To unpin program from the taskbar
Right-click a pinned program button on the taskbar, and then click Unpin this program from taskbar.

To show Windows desktop
The Show desktop button located at the most right hand side of the taskbar. Click on it will minimizes all open windows at once and shows the desktop.

To show Windows desktop (make all windows transparent)
In Windows Aero, point to the Show desktop button. Right-click the Show desktop button, and then click Peek at desktop to turn it off and on.

Can't find what you're looking for? Try Google Search!
Custom Search
Back to Top

You're viewing the Windows 7 taskbar info page, click here to go back to the Home Page